Entertainment Services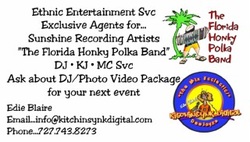 CLIcK ON ME
KSD can Provide Full Services for your next Function. Be it Corporate Meeting or Party, Birthday, Anniversary, Weddings....You name We Can DO IT. From A Big Band to a DJ or MC. And Our Mixes are Danceable by ALL.Our Musicians are some of the Best in Tampa Bay! Polish, Slovenian, German, Cajun are Our Specialty. Just Click on the Biz Card link and you can request availability info.

---
Rita B...Florida's Polka Pusher

Clik Da Pic
Rita B has been publishing a Florida Polka Schedule for over 15yrs click on her pic to contact her.

---
Florida Honky's...2016 How's Your Dyngus Tour

How's Your Dyngus Tour 2018
2 Weekends of Good Old Honky Style Polka Music
Biggest Dyngus Day Celebration South of the Mason Dixie Line....
Don't Miss It!
25 Years and Still Going Strong!
"FHPB is in it's 13th year of existence and we are endeavoring to keep Polka Music Alive in Florida."
Monday, April 2nd DYNGUS DAY 1-9pm , Buffalo City Bar & Grill
DEDICATING THIS YEAR'S DYNGUS DAY CELEBRATION TO FRANK SUKIENNIK, WHO BROUGHT DYNGUS DAY TO TAMPA BAY ! WE'LL MISS YOU!
5631 Park St. N Saint Petersburg, Florida 33709 Call 727-549-9464
Your Favorite Buffalo Style Polkas By Edie Blaire's KitchinSynk...DeeJay 1-3pm
3
-til we get Arrested,
Live Polka Music By Florida's "Best Co Jest Honky Polka Band"..
THE FLORIDA
HONKY POLKA BAND, Sunshine Recording Artists...
Featuring Edie Blaire on Drums and Vocals, Richie Kurdziel on Concertina, Ronnie Marcissuk on Concertina,
Stevie Dudas on Trumpet
and Vocals,
& Jimmy Sefcik on Bass.
An Evening of Buffalo, Chicago and Northeast Polka Stylings.
Come Celebrate with US!!
Saturday, April 2 2016 6th annual Pirucki Dyngus Dance 4-9pm
AMERICAN LEGION POST 303
27678 IMPERIAL SHORES BOULEVARD, Bonita Springs, FL Call 239-390-3555
Sunday, April 3 2016 How's Your Dyngus Windup Dance 3-6pm
POLISH AMERICAN SOCIETY OF ST PETERSBURG, FL
1343 BEACH DR. SE..(BY THE COAST GUARD STATION)
---
Florida's Own Honky Dyno Style Polka Band. SunShine Records Recording Artist. Look for FHPB on Reverbnation.com
Clck on the Above Link for Happenings in the St Pete Tampa Bay Area

Click on the Above Line for Happenings at Polish American Pulaski Association